Pennsauken NJ – Williams Trading University (WTU) is a free adult e-learning resource provided to our dealers with the collaborative support of the of our vendors. Since its September 2015 launch, WTU has certified over 100,000 store associates, impacted retail sales growth and is providing a better store experience for customers.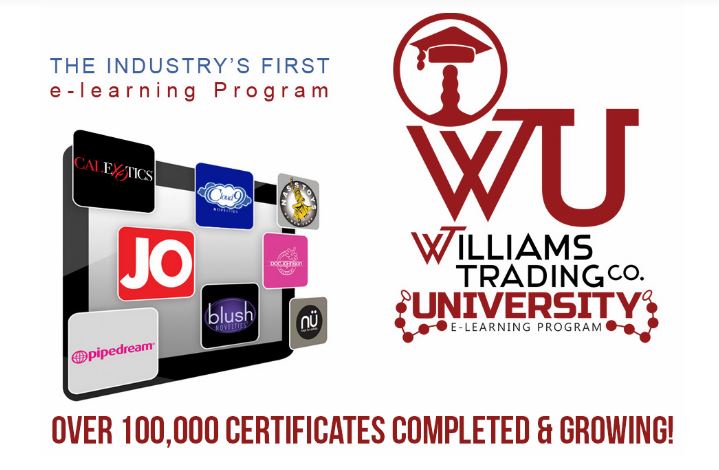 The benefits as a store owner is to allow employees to stay up to date on the latest products and service, improve employee retention and provide awards and recognition for achievement.

"The vendor participation has been excellent since it's inception and the adult store owner community has embraced this tool to further promote education at the retail level. We congratulate and thank all of our dealers and vendor partners on this achievement" says Robert Pyne Jr, CEO of Williams Trading Co.

"Williams Trading University debuted over 4 years ago to our customer base. We are the first adult distributor to offer e-learning 24/7 in a format that can be used by store operators, and sales associates. When we first created this concept we set a goal to certify over 10,000 associates within one year. A certification is a course in which a sales associate completes the training course and passes to earn a certification. To date, we have certified over 100,000 courses and lead the adult industry with the largest range of courses available today and the highest participation rate," says Scott D, marketing and sales director.

All courses are designed with full collaboration with our vendor partners. Typically these courses range from 2-7 minutes in length and all feedback for content comes directly from the participating vendor. To keep the course content fresh we embed videos and add interactive rollover features to allow the user to have an overall inactive experience while learning.

The newest direction with Williams Trading Co is the development of specific learning channels by brands and the introduction of gamification to keep the user engaged. System Jo, Pipedream, Nasstoys, Satisfyer, CalExotics, Cloud 9 Novelties, and Wet Lubricants are in the co-development of extended learning channels specific to their own brand benefits. You can view the complete WTU University course portfolio here.
Gamification started this year and has increased participation rates. Gamification is the process of taking something that already exists – a website, an enterprise application, or an online community – and integrating game mechanics into it to motivate participation, engagement, and loyalty. Please review the e-learning training results here at our infogram.